| | |
| --- | --- |
| 32841 SE 47th Pl Fall City, WA 98024 | 425-392-4712 |

QI GONG

(chi gung)

- Exercises for the Life Force



Learn the secrets of Time Away From Time
Overwhelmed? Not enough minutes in a day?
No matter where you go, there you are?
Do you lack energy to do your own daily routine?
Do you suffer from recurrent fatigue or illness?
Have you forgotten how to relax, how to breath, how to stand straight, or how to hold yourself with relaxed ease? Not enough minutes in a day to exercise? Not enough time to take care of yourself? Learn the secrets of Time Away From Time



Qi Gong Classes are Monday & Wednesday from 7:00PM to 8PM.
Qi Gong is also taught during private lessons. Cost for private lessons is $60 per hour


Qi Gong Seminars -
February 20th & 21 2010 San Domingo Ranch - Time Away From Time Seminar
Many thanks to my most gracious host
Patricia Dougherty at the San Domingo Ranch in Beeville Texas
I was a pleasure to teach Qi Gong, Xiong Jiang Wing Chun and to serenade everyone on the Piano
I look forward to returning to continue my teaching.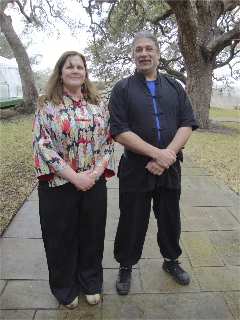 Daoist Ceremonies and Marriage Rituals - by appointment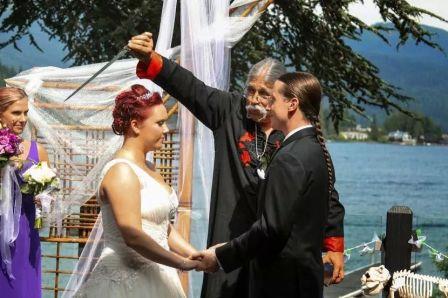 ---

Many thanks to my friend and mentor Dr Thomas McCombs
for compling this information on our
History of Dao Dan Pai Qi Gong

Dao Dan Pai
The Daoist Elixir School

a history of a Daoist Lineage

Thomas McCombs DO
He Feng Dao Shi
abbot, Jin Dan Guan


The Li Family had been the Imperial Family of the great Tang Dynasty, from 618 to 907 CE.
In the discord following the Tang collapse, five different families/dynasties each held the Imperial Throne for a few years before the era ended in 960 with the ascension of the Song Dynasty.
During this Five Dynasties period, the second of these five dynasties was again (briefly) the Li family. Five Li emperors ruled from 923 - 936 CE, and the fourth of these five was Li CongHu, known as the Compassion Emperor.
His son, Li ShaoYang, was a sickly young man, deemed too frail to become Emperor. The imperial throne passed to the adopted brother of the Compassion Emperor, Li CongKe, who had only ruled two years when the Li Family fell from power in 936 CE.
Li ShaoYang, the frail young prince, was allowed nearly free rein to amuse himself with rides in the countryside while his adopted uncle was groomed for the throne. It was on such an excursion that Li ShaoYang met Lu DongPin. Prince Li was intrigued by the exercises that he saw the old man performing, and asked if he could become his pupil.
Lu DongPin was a Daoist Immortal, the pupil of JungLi Chuan (sometimes called Han JungLi, having been a general in Han Dynasty times). Lu DongPin is the Founder of the Complete Reality (Quan Zhen) School of Daoism, and remains highly revered today.
Lu DongPin trained Prince Li for three years, so improving the Prince's vitality that the Compassion Emperor insisted on meeting with his son's teacher. Following his formerly frail son (in secret) to observe the man & training that had so empowered him, the Compassion Emperor interrupted the training and Lu DongPin vanished.
When the Li Family again fell from power in 936, Prince Li ShaoYang went into hiding in a Daoist Monastery. The exercises that he had learned from Lu DongPin became the Cloud Hand (the 31), the Shen, the Six Sections (6 Stars), the Nine Pieces Lotus Flowers (9 Flowers), the Tendon Change (Shake-hands), the Five Dragons and other internal & external practices of the Dao Dan Pai (Daoist Elixir School). This sect is one of the many of Ancestor Lu DongPin's sects, such as the Dragon's Gate Sect (Lung Men Pai), still practiced in modern times.
The transmission of Dao Dan Pai from one teacher to the next is documented by the Lineage Poem (bei fen shi). Each teacher's generation is represented by one word of the poem, and each teacher takes his/her Daoist surname from the word that corresponds to that generation's level of transmission. In this tradition, the first word/name of the Dao Dan Pai Lineage Poem is Xuan, meaning the dark or the hidden. It makes sense to assign such a name to Prince Li, as he had to remain in hiding from the next Imperial family. His students cultivated the practices that Ancestor Lu had taught Li ShaoYan, transmitting them from one generation to the next over the next ten centuries.
The Dao Dan Pai remained in active practice at GuiLin Guan (Acacia Grove Temple). The location is not known to this writer. It is possibly located in the region of GuangXi Province known as Gui Lin. A 24th generation master, Chen Poi (Daoist name: Jing Feng) left GuiLin Guan for a Dragon's Gate (Lung Men) temple on Mt LoFa in GuangDong Province in the 1920's. Residing in Yellow Dragon Temple (Huang Lung Guan) as the Vice-Abbot, Chen Poi took several students from the region to train in Dao Dan Pai. His fifth student was from Dragon Virtue Village (LongDe Li in TaiShan, LiAo region) in Guang Dong Province: Share K. Lew. Lew trained with Chen Poi for 13 years; learning the practices, and living the rituals of Daoist monastic life with the Dragon's Gate monks in residence. Master Lew left the temple in 1946, and China in 1948. Chen Poi remained at Huang Lung Guan and was imprisoned by the new communist government in 1949.
The 25th generation of Dao Dan Pai is represented in the USA by Grand Master Share Kimyuen Lew (Daoist name: Yi Feng). He trained with Chen Poi at Huang Lung Guan from the early 1930's to the mid 1940's. After leaving the temple in 1946, Master Lew trained in the TaiJi Ruler system under Chao JungWa. In addition to the Dao Dan Pai system, Grandmaster Lew's heritage includes the first three exercises of TaiJi Ruler (Chih, Shen and Two-person Chih), as well as Iron-hand technique & ChoiLiFut gongfu from his uncle, Lau (Lew) Ben of San Francisco. The Dao Dan Pai heritage includes the Internal (qigong) alchemical practices listed above, the external (boxing) skills, animal forms (Tiger, Crane, Dragon Palm, Snake), weapons skills & forms (double daggers, spear, staff, cane/umbrella, bench & hoe), external qi healing, manipulative medicine (tui-na), and a herbal formulary with three liniments: dit da jow, dit da shang and hand-practice, and ten internal recipes: seasonal change, bone/sinew, eye brightener, anemia, cold feet & week knees, itching & damp, high blood pressure, uterine bleeding, and internal injury.
Teacher, Warrior, Healer (herbalist, bonesetter and external qi), Alchemist, Sage & Priest: many ancient masteries were embodied in this tradition.
Master Lew taught non-Chinese beginning in the 1970's, and has been a honored teacher at the Taoist Sanctuary of Los Angeles (later the Taoist Institute), and the Taoist Sanctuary of San Diego. He has students across the USA, in Europe and Japan.
Master Lew is a profoundly skilled and culturally unique individual. His skills are broad and his attainment is deep. It is an honor to have trained in these traditions under him and with my school siblings, his students.

Thomas McCombs DO

He Feng Dao Shi

Abbot, Jin Dan Guan (1993 - 2001, Issaquah, WA)

---

Tai Ji Chih (Ruler)
Sundays 10 am—3 pm, with an hour break for a group lunch, (included)
Qi Gong seminars are taught quarterly at the Kung Fu Club of Fall City/Issaquah, by Sifu Johann Sasynuik. The one day seminar costs $90 Class time usually runs about four hours per day with an hour break for a group lunch.

Tai Ji Ruler - Tai Ji Chih

Chao family system Qi Gong This rarely taught system of Qi Gong, uses a carved wooden ruler (Chih),



cupped between the hands to practice the Tai Ji – great pivot. (Qi Gong - literally - Life Force Cultivation, Qi (Chi) = vital energy) The Chih is moved slowly through the aura to strengthen the life force by promoting spinal flexibility, body symmetry and relaxed movement, while maintaining the present moment. A unique Tai Ji Qi Gong form; the complete form consists of a set of eight exercises including standing, seated and reclined practices. The entire set, once learned, takes about 25-30 minutes to complete, perfect for persons with a busy schedule. Participants will have their breathing skills deepened and their leg strength increased, as they learn these powerful exercises to promote longevity, health and resolve illness.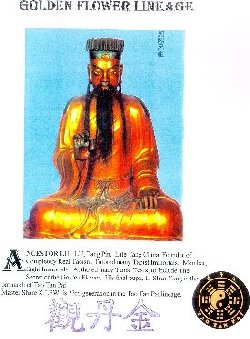 Dao Dan Pai Shen Gong
Great Bird Spreads Wings—Tonic for Mind & Spirit
Two Dragons Come Out of Cavern—Strengthens Muscle
Spirit Dragons Meet—Builds the Life Force
Green Dragon Out of Water—Good for the Tendons
Push Window Observe Moon– Good for Eyes
Hero Subdues Tiger—Strengthens Bones
Orchid Hand—Good for Internal Lungs
Double Spread Palm—Good for External Lungs
Swimming Dragon Appears—Good For Liver
White Snake Thrust Tongue—Good For Heart
Yin and Yang Mix—Good for Spleen
Right and Left Reverse Wind Wheels—Good For Kidney

Photographs courtesy of Dr. Tom McCombs D.O. / He Feng Dao Zi / Abbott of Golden Elxir Temple. Sifu Dr. McCombs represents the 24th generation of the Dao Dan Pai Lineage
Dao Dan Pai Cloud Hand (Short Set)
Heron— healing exercise for the entire body
Circling Palms— good for Heart & Blood pressure
Squats—good for Lungs and morning cough
Pinch Up & Swallow—good for Liver
Arms Cross—good for digestion
Straight Legged Prayer—good for Kidney
Earth Meditation— to improve your sleep


Dao Dan Pai Six Stars Set
Right, Left Cross Word
Right Left Penetrate Hand
Bosom Embrace Great Pivot -The Tai Ji
Front Back Encircle Hand
Everything in Universe returns to Origin
Embrace Tiger Return to Mountain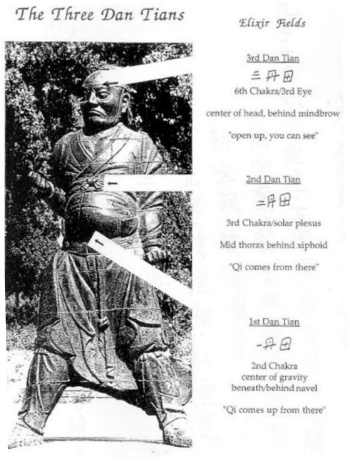 Sifu Sasynuik can teach you how to help yourself.


TODAY


Taught by a former fortune five hundred corporate salesman Survivor of twenty-one years of 100% commission sales, Turned Entrepreneur, Master Warrior, Philosopher, Musician and Sage
Owner of the Kung Fu Club Fall City/Issaquah/Fu Shan Guan,
Kung Fu / Qi Gong Teacher Sifu Johann Sasynuik
Qi Gong - Exercises for the Life Force / Kung Fu - Great Work
Personalized Private Lessons One on One
Enjoy the benefits of your own personal Kung Fu/Qi Gong Trainer
Enjoy your private lessons in the comfort of the Kung Fu Club Fall City/Issaquah
and Treat yourself to an immersion in the restorative powers of
Sifu Sasynuik's Private Gardens on the banks of the Raging River

Private Lessons by Appointment: Contact: Sifu Johann Sasynuik @425-392-4712 or johtzu@mindspring.com


Earth Meditation - Seated Practice; considered the most important Qi Gong exercise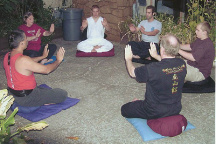 Floating Palm Seminar - Mother's Day May 11th 2003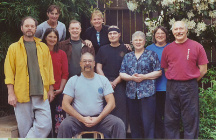 Tai Ji Ruler Seminar - 4/25/99 Seminars taught by Sifu Dr. Tom McCombs D.O. and Sifu Johann Sasynuik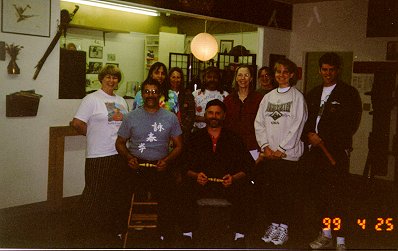 Shen Gong of Dao Dan Pai Seminar - 9/20/98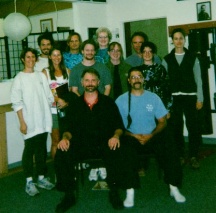 DAOIST LINKS
Tao Institute
Taoist Institute
Daoist Studies
National Qi Gong Association
Qi Gong Association of America
Abode of the Eternal Dao
Taoist Sactuary
Taoist Initiation Page
The Taoist Center
Healing Dao USA
Pacific Healing Arts