| | |
| --- | --- |
| 32841 SE 47th Pl Fall City, WA 98024 | 425-392-4712 |

Sifu Johann Sasynuik

- Certified Instructor

Sifu Sasynuik was honored by the Issaquah Community and ArtEAST
as an inspiration for the commision of a new art work by Randa Hilal.







Half Fool, Half Magus




Johann Sasynuik


Etching, Linocut, Altered Photos & Handmade Paper
Randa Hilal, artist

One of fifteen commisioned art pieces.
Part of a Collective Memory Project.
Enjoy the rest at ArtEAST web page.

Thanks Randa -
I truely appreciate this art piece.
The Power of your "Intent"
captured the Magic Essence
Interactive, malleable, tactile, multifaceted
Simple and Complex
Just like the Kung Fu.

Sifu Johann Sasynuik receiving Universal Martial Arts Hall of Fame induction for Kung Fu Man of the Year from Professor Silverio P. Guerra, Houston Texas 2003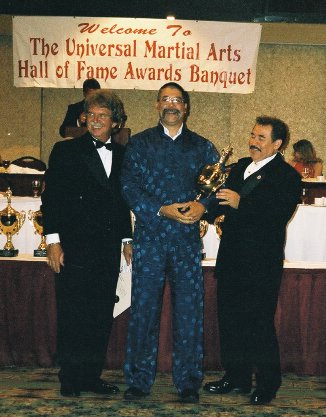 23 YEARS TRAINING IN TSUN JO WING CHUN® KUNG FU
2 YEARS TRAINING IN WING CHUN DO
CERTIFIED INSTRUCTOR Xiong Jiang Wing Chun KUNG FU
CERTIFIED INSTRUCTOR Xiong Jiang Wing Chun GRAPPLING
CERTIFIED INSTRUCTOR Xiong Jiang Wing Chun WEAPONS

EDUCATION:
BACHELOR DEGREE, COMMUNCIATIONS,
UNIVERSITY OF WASHINGTON 1979

BACHELOR DEGREE, POLITICAL SCIENCE,
UNIVERSITY OF WASHINGTON 1979

CONVENIENT CLASS TIMES EFFECTIVE FOR
MEN, WOMEN AND CHILDREN
WOMEN'S SELF DEFENSE CLASSES,
YOUTH CLASSES
BEGINNING, INTERMEDIATE, ADVANCED CLASSES QI GONG CLASSES
VERY WELL EQUIPPED SCHOOL

EASY LOCATION - ON THE BANKS OF THE RAGING RIVER
IN FALL CITY 3 MILES FROM I-90 AT EXIT 22.

HELPFUL AND FRIENDLY TRAINING ENVIROMENT
LEARN VERY REAL SELF DEFENSE SKILLS

FAIR TUITION POLICIES WE WILL MAIL YOU FREE

INFORMATION
Xiong Jiang Wing Chun Kung Fu is regarded by its practitioners as a superior fighting art.

The goal of the Kung Fu Club Fall City/Issaquah/Fu Shan Guan
is to assist each Student in their personal quest to optain the skills and benefits of Kung Fu and Qi Gong.

Tremendous speed and power,
Economy of effort,
Efficiency of motion,
and unusual controlling abilities
are hallmarks of the Xiong Jiang Wing Chun system.

The Martial Art Xiong Jiang Wing Chun is very effective for practitioners of either sex and almost any age.

Benefits to Students:
Increased confidence in the ability to defend or protect;
"Ownership" of a Unique Self Defense Method;
Development of very Specialized Self Defense Skills.
Improved conditioning and overall fitness.

Health, Longevity and Resolution of Illness
are Hallmarks of the Dao Dan Pai
and Tai Ji Chih (Ruler) Qi Gong teachings.
Qi Gong is suitable for all ages and are not Martial in their intent.
The benefits of deepened breath, leg strength and stamina
are by their nature complemetary to Martial Skills

Equipment:
The Kung Fu Club Fall City/Issaquah/Fu Shan Guan is well outfitted
with both Traditional and Modern training equipment including:

Mook Jong (Wooden Dummies),
many types of punching bags, focus mitts,
kicking shields, and other specialized training devices.

Benefits to Students:
Greater body control and coordination;
Increased speed and power;
Specialized skill development;
Greatly Accelerated Progress.

Admission Requirements:
All persons requesting admission to
the Kung Fu Club Fall City/ Issaquah must demonstrate
good character and be willing to participate and train
with a spirit of courtesy, consideration and respect
as well as a willingness to make the personal committment
to time and effort required to learn.